Utilization Management
The Right Care at the Right Time
Medical treatment consistent with evidence-based practice.
Compliance
Why Does Accreditation Matter?
If you don't have national coverage that includes credentialed, board-certified clinical reviewers you are taking big risks.
Late decisions from missed compliance
Isolated code automation
Confusion from lack of transparency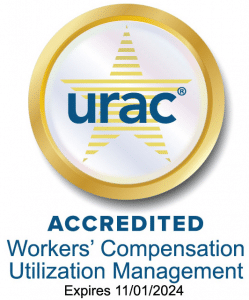 The Simplicity of Utilization Review
Manage all aspects of your medical claims knowing injured workers are being provided with timely and appropriate care.
Certified Practitioners
Licensed nurses and board certified physicians ensure optimal outcomes
Stop Unnecessary Expenses
Proactive management reduces the costs that come from sub-par and reactive treatment plans
Evidence-Based Guidelines
Data-driven plans based on medical evidence help you manage claims from initiation to resolution
What our customers are saying
"Ethos has been a valuable business partner going on six years now. Their timeliness and accuracy are a big part of our high-performer status."
"Ethos has been a great partner that makes our team more effective and significantly impacts claim outcomes."
"My non-represented file that could have turned ugly…returned to work on modified duty yesterday after having surgery. Ethos really helped out and together as a team we kept him from litigation and kept his claim cost low."
FAQs
If you need more information, please reach out and we'll be happy to answer any of your questions.
What is Workers' Compensation Utilization Review (UR) and why is it used?
Can Utilization Review be used in all states?
Can medical treatment be managed under Utilization Review?
Is Utilization Review the same as a Peer Review?
Don't Get Stuck Paying More
Utilization management keeps you compliant, saves you unnecessary costs, and gets injured workers the care they really need. Don't risk losing more time and money, talk to us today.